Meet John:
John sells on Amazon UK. He sells a lot of different stuff. He also sells on eBay. His business is doing pretty well now.
At the very early days of his business, John travels to China find products, buy packages materials, then ship them to UK. He usually spends one month in China. Then he goes back to UK, receives everything. Unpack, inspect, repack, label, send to his customers (mostly Amazon and eBay). He did all this by himself. Business is OK.
One day, John saw one of his school classmates Peter, who also sells on Amazon UK. Peter was already one of the main players in his category.
Later on, John finds out that Peter is using the prep center in China to collect, check, label and ship products for him. Especially for inspection, all of Peter's products had been 100% strictly inspected in China before they were shipped to UK. Good products quality and condition pushed Peter on top of his competitors.

Why don't I do the same? John though to himself.
Later, John contacted his logistics guy in China for help. Instead of just collect products and do very basic check, John asked his logistics guy do a 100% inspection for all his products. Many items were package opened, functions tried, package changed, labeled, then shipped to John. Some products were bundled with additional items to make a new set or as a gift.
Slowly, this logistic guy also helps John with buying samples from multiple suppliers, compare and test samples, evaluate suppliers, develop new packages, place trial orders, collect, inspect, prep, ship, re-work, handle rejects… basically everything in China.
John spends most of his time with finding and working out new products, marketing and selling.
Year 2018, they worked out 4 full containers. Year 2019 they worked out 8 full containers. They are planning for at least 12 full containers for year 2020.
They are working for 100% increase year to year.
Now this small logistics warehouse expanded, have more staff, can handle more "Johns". It also has a name for it, called "PrepInChina".
Core Values John Receives:
#1 Faster New Product Develop
After market research about demands on Amazon UK, and checked price points and potential suppliers on 1688.com, John just send PIC(PrepInChina) some links of products they require samples, PIC(PrepInChina) confirm with supplier then buy them.

Almost all samples can arrive within 3 days, at a very cheap shipping cost. Then PIC have a video call with John to, check, test, compare. Then John decides if he need to place a trial order. Only a small number of products went to order stage. Making new sets, new package or bundling are also done at this stage.
Without PIC, John would spend much longer time and pay higher cost for working out new products/packages.
#2 Lower Trial Cost
John never ordered a new product for more than 500 units, which is usually only a few cases. Just enough to meet suppliers minimum order quantity.
With this quantity, few suppliers are bothered to label, change package, ship internationally. In fact, most of them has no way to receive international payment. They prefer get money(in RMB) paid and boxed picked up by couriers quickly.
They don't have either the workforce nor facility set up. For them, these jobs are pain in ass. Too small, too complicated, too MAFAN(complicated and toublesome in Chinese ).

Well for PIC, this is their job. They have workforce and facilities all set up. For PIC, this kind of troubles are welcomed.
Based on the fact that only a small percentage of products turned out to be successful. Keep trying is the only option. But paying 10K USD for each try is too costly, doesn't work for John.
#3 Full Inspection
This this the most direct value. Here are some records:
On average, 50 out of 1,000 slingshots were picked out during inspection because of scratched surface.
Out of 10,000 woodworking clamp, 5000 and 400 were rejected on first delivery, 1400 pcs out of 3150 were picked out because of missing parts, poor finish, or simply don't work.
Dirty flags were picked out.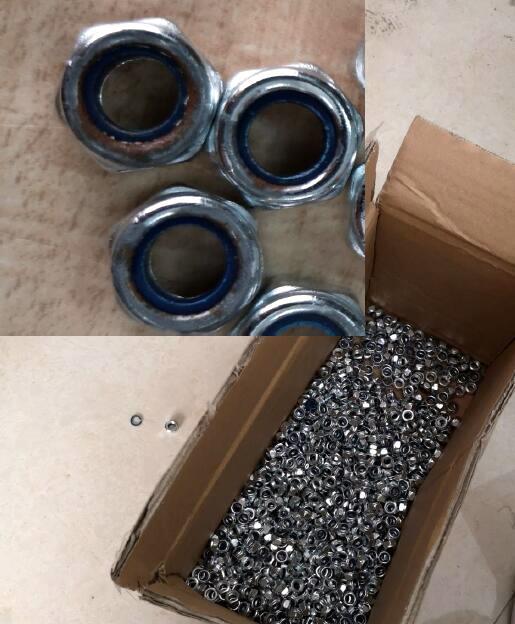 Rusty screws were picked out.
Broken wheels were picked out.
Not well fixed nail brushes were picked out…
You can imagine all these defectives shipped all the way to John in UK. He paid all product costs, shipping freight, duty and tax… there is no way to return these products back to China. He needs to have people fix these, all simply dispose entire shipments. If these were shipped to his customers' hands, John may already out of business long time ago.
#4 Cheap Prep Cost
PIC(PrepInChina) paid a labor hourly cost of 15 RMB in 2018, which is 15/8.7=1.72GBP. While UK labor cost was over 23 GBP / hr. in 2018.
Labor cost is 10 times higher in UK than in China. A full container prep work usually takes more than 500 hrs, John can save 500*(23-1.7) = 10, 650 GBP, for the same work but done in UK. 4 containers saved him more than 40,000 GBP!

A basic A4 brown cardboard box is sold for 1.5 GBP in UK.
A similar box in China on 1688.com selling starting from 1.50RMB/8.7=0.17GBP.
Package materials price is about 9 times cheaper in China than in UK.
Want A Try?
All right, that's all for the story about how John takes his AMZ business to a higher level by working with a 3p Amazon FBA Prep center in China. Thank you very much for reading. This is already proven. Would you like to have a try?